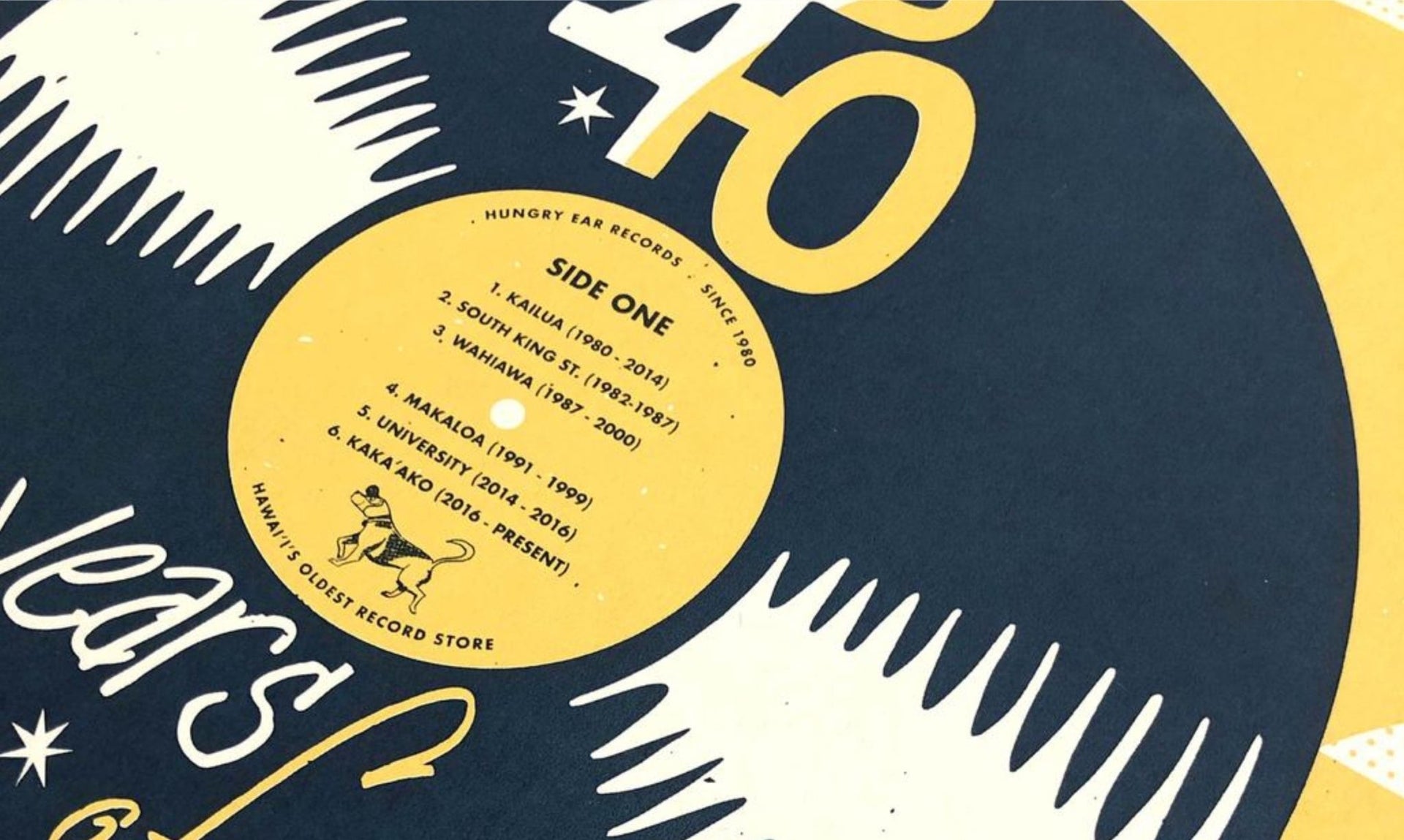 Hungry Ear Records 40th Anniversary Print
PRINT
Hungry Ear Records has been synonymous with vinyl on O'ahu for 40 years. It is Hawaii's oldest record store which was opened in 1980 by Luke Yamashiro, Dennis Chun and Reynold Yep in Kailua. It's really amazing to see a shop last over the years, especially in Hawaii where we sometimes are given an extra set of challenges as business owners. As a new generation continues to sling vinyl from their current space in the arts-filled Kakaʻako neighborhood, we collaborated on a limited edition screen print to celebrate this remarkable milestone. 
This was such a rewarding project for me personally given my own love and connection with vinyl. Whether you're from the Vinyl record era, 8 tracks, cassettes, or opening up the liner notes in your brand new CD, we can all connect with the feeling that gave us. There was no better money spent for me after mowing lawns all week as a kid. The first album that got me into loving music was Soundgarden's Superunknown...what was yours?
With this print I wanted to figuratively show the community rising up along with their local record store. Hopefully you can identify with one of the playful characters in the hot air balloon as it rises high above the palms. The center track list features all of Hungry Ear's store locations over the years and highlights the celebration of 40 music-filled years.  
The limited edition print is screen printed in-house on French paper with water based inks at my studio and is available here until we sell out. Because we all know there's nothing that conjures up feelings of the past quite like that first scratch of the needle.