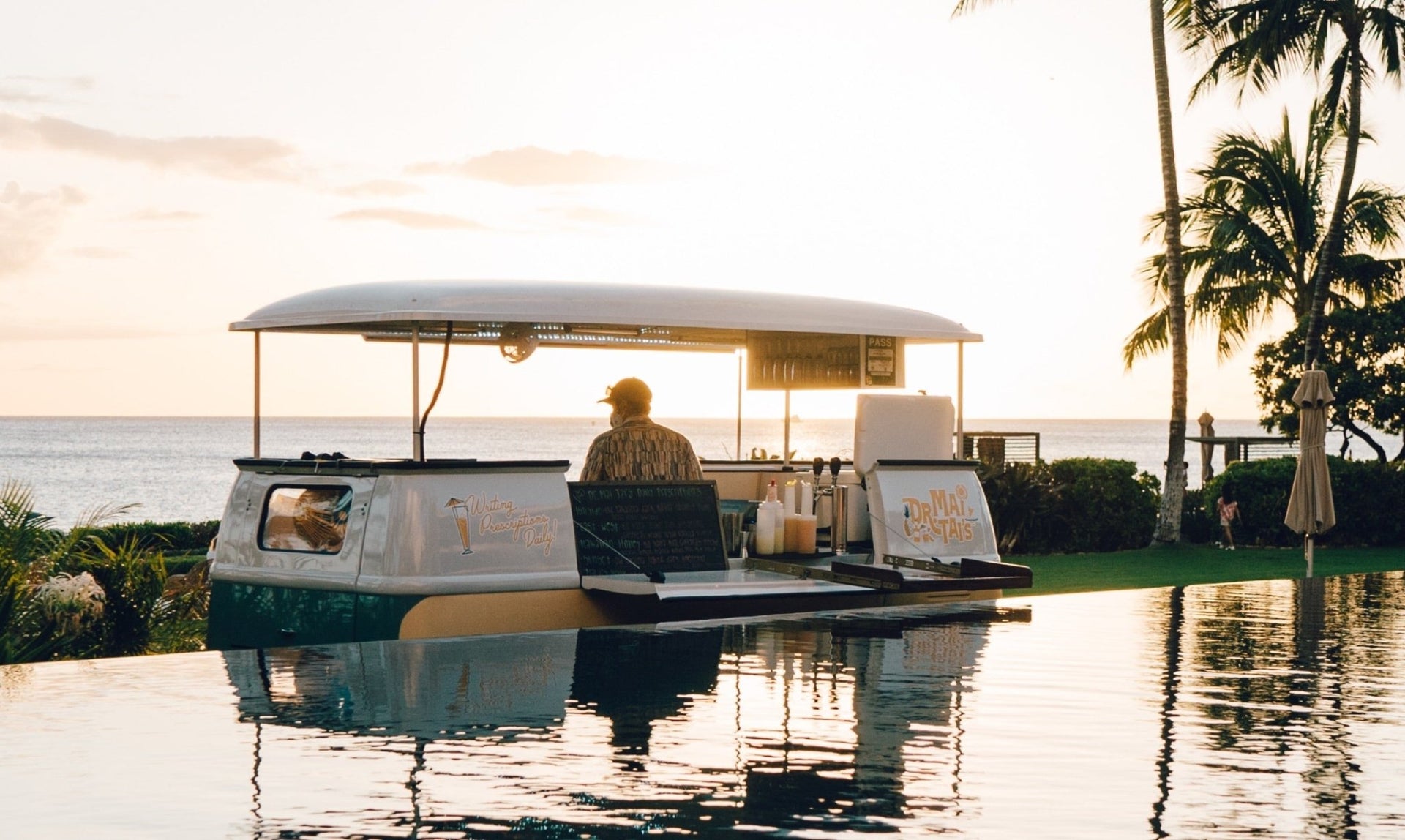 Dr. Mai Tai's Swim Up Bar at the Four Seasons Resort Oʻahu
ILLUSTRATION
As the 2021-2022 Artist in Residence for the Four Seasons Resort Oʻahu, I have been continually impressed by their commitment to incorporating their Artist in Residences's artwork through the resort. There are pieces from previous residencies displayed throughout, harkening to the artists who used this space as inspiration in years past. 
In addition to the gallery hall, guest events, and exclusive originals that are a part of my residency, I was asked to create the artwork for a swim up bar, fashioned out of the body of a VW bus. If you've been following me for awhile, you know I've been known to ride around in my own vintage VW and those air-cooled drives have inspired many works, from the 'See Oahu's North Shore' print to the 'Van Life' print and many others along the way.
Dr. Mai Tai's, which is parked next to the infinity pool that looks west for truly spectacular sunset views all year long, serves up 5 o'clock Mai Tais featuring some of the islands' best homegrown spirits. Staying true to my vintage-meets-modern style, it features custom type as well as a sunset illustration akin to what you might see from the pool - including the Four Season's wa'a that sails up and down the leeward coast on their guided tours. 
You can check it out on your next Aloha Friday pau hana at the Four Seasons or read more about it in this feature by Forbes Magazine. Can't come swing through on Fridays? Don't worry, Dr. Mai Tai's writes prescriptions daily...and trust me, it's just what the doctor ordered.