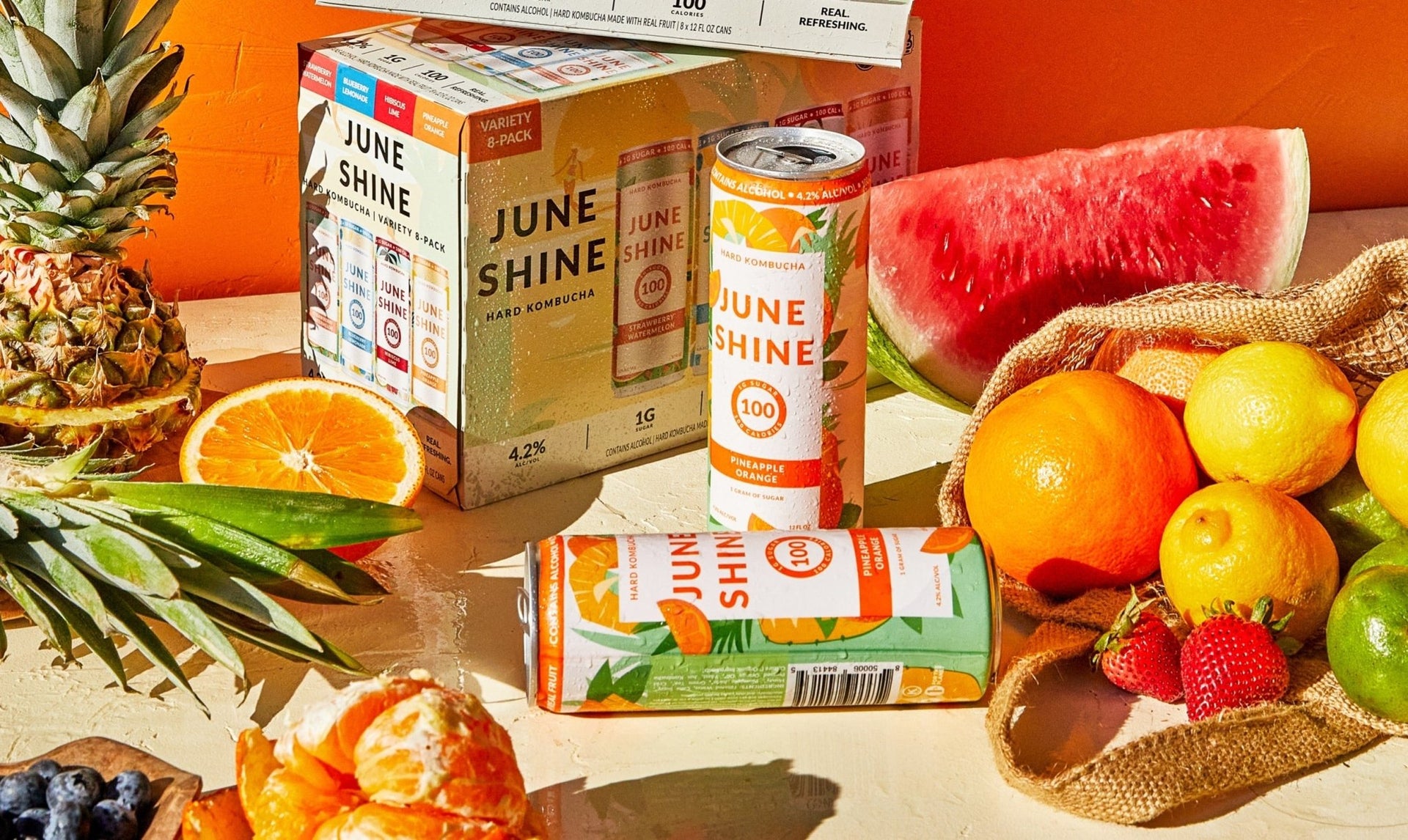 JuneShine100 Variety Pack
PACKAGING
The fun with JuneShine continues! This summer they launched JuneShine100, a hard kombucha with just 100 calories, 1g of sugar, and 4.2% ABV for a drink that's guaranteed to keep you feeling good. To launch this special light version, they kicked it off with a 4-flavor variety pack. I had the wonderful opportunity to illustrate the can art for all 4 flavors! 
Many of JuneShine's fans are active and outdoorsy, so each can design is fruit forward with a hint of watermen and women in the background. Whatever the flavor, I just tried to make them look as good as they taste.
Blueberry Lemonade
There's refreshing and then there's Blueberry Lemonade. Brewed twice with choice organic blueberries, lemon juice, green tea, and jun kombucha for that lighter, brighter buzz. This was a straightforward illustration, bringing out the blueberries and lemons to make your mouth start watering before you even pick one up. But if you look closely, you'll notice the blue creates an ocean scene with a man paddling in a canoe.
Hibiscus Lime
This is a refreshing remix of their signature hard kombucha, and the perfect way to transport your tastebuds to tropical paradise. Hibiscus is a native Hawaiian flower that provides pops of pinks, yellows, and reds all over the islands so it was a special honor to include it in this illustration. Behind the lime wedges is a woman sitting on a palm tree with a hibiscus in her hair as she looks up at a waterfall. A serene scene fit for a relaxing drink.
Pineapple Orange
Perhaps my favorite design of the bunch, I love the way this one turned out. Another island ode with juicy pineapple rings, surfers catching waves, and a big, bright orange sun.
Strawberry Watermelon
And last, but not least, few things say summer like the combination of strawberry and watermelon. This one tastes like a tastebud vacation, so I designed an easy, breezy summer illustration to go with it. A sailboat off in the distance, palm tree shade casting a shadow, and a wahine just cruising on the beach. 
These flavors are available at JuneShine's tasting rooms in San Diego and Santa Monica, California, or at certain locations. Go here to find a location near you!