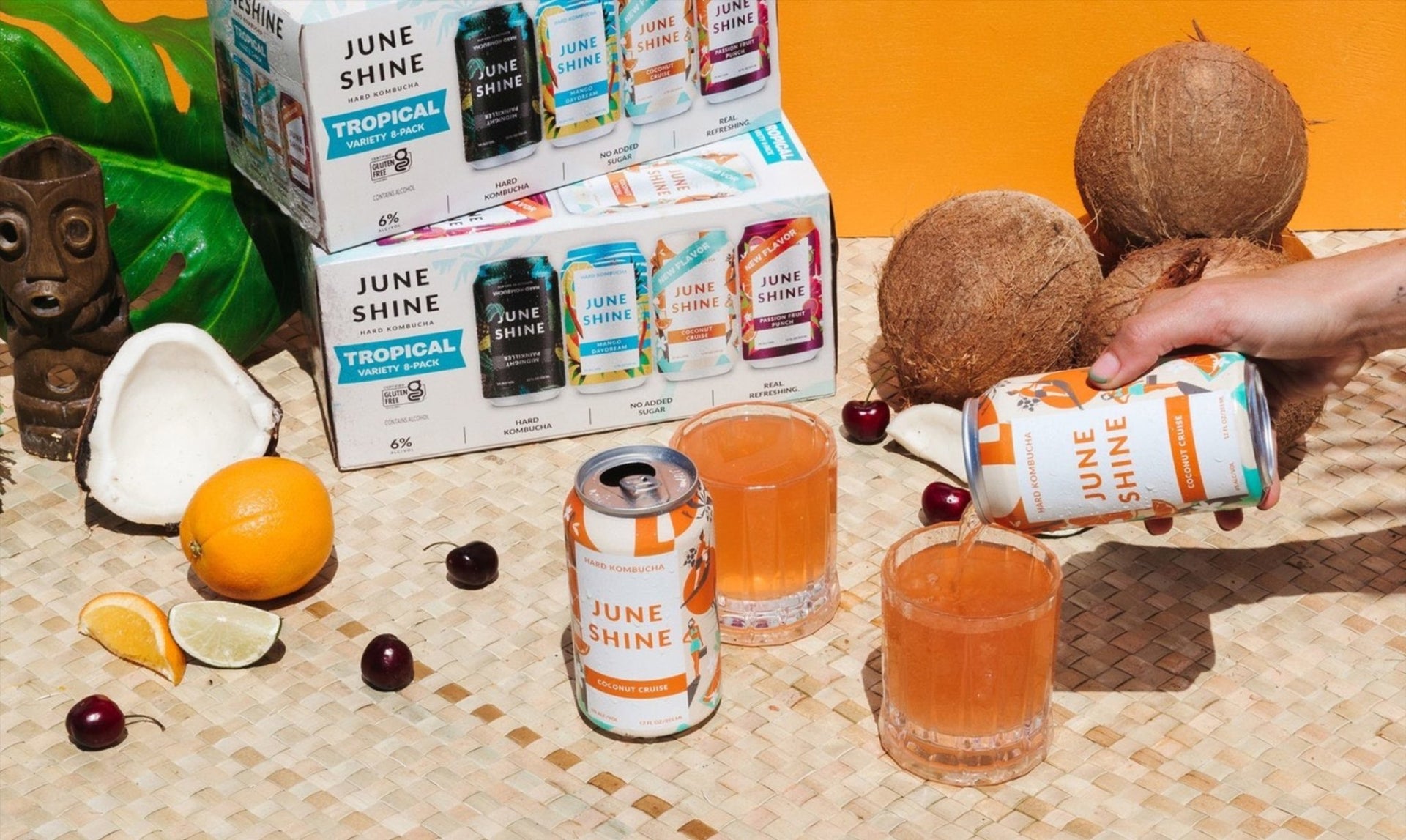 JuneShine Coconut Cruise & Passion Fruit Punch Can Art
PACKAGING
Putting the pair in paradise with not one, but two delicious new flavors: Coconut Cruise & Passion Fruit Punch. These two can designs topped off a bakers dozen worth of can art collaborations with the good folks over at JuneShine and like their Jun kombucha, this partnership just keeps getting better with age. Available exclusively as a part of their Tropical Variety Pack, these island-inspired flavors will have you ready to hit the sand. And don't worry,
Mango Daydream
 made it into this delightful mix too.
Coconut Cruise
Brighter days, brighter buzz...this can design has retro sun-filled days written all over it. With hints of vanilla bean and orange, you'll find a few of my signature characters cruising the waves on a softer creme backdrop to set the tone. Vanilla flowers criss cross the can and get you ready for a dreamy mix of creamy coconut and vanilla.
Passion Fruit Punch
You might be surprised to learn that fruit punch was originally an alternative beverage of choice for sailors in 17th century. Unsatisfied with beer that would go flat after weeks on the ship, sailors began brewing up their own beverages made of local ingredients from their tropical destinations like rum, citrus fruits, and spices. The first fruit punch recipe dates back to a German factory manager in India and when sailors began taking their drink back to England in the Victorian era, the Queen wasn't a fan of alcohol, so the non-alcoholic form of fruit punch that many of us know grew in popularity. That's what you came here for, right? A history lesson on fruit punch. Well, JuneShine has whipped up a fruit punch that would put any sailor's scurvy on notice with a groovy mix of passionfruit and orange. Inspired by those island vibes, you'll notice a fruit punch waterfall featured prominently on the right side of the can amidst swirls of fruity goodness. 
These flavors are available at JuneShine's tasting rooms in San Diego and Santa Monica, California, or at certain locations (go here to find a location near you). Plus we always keep a rotation of flavors available in our shop in Kailua Town!