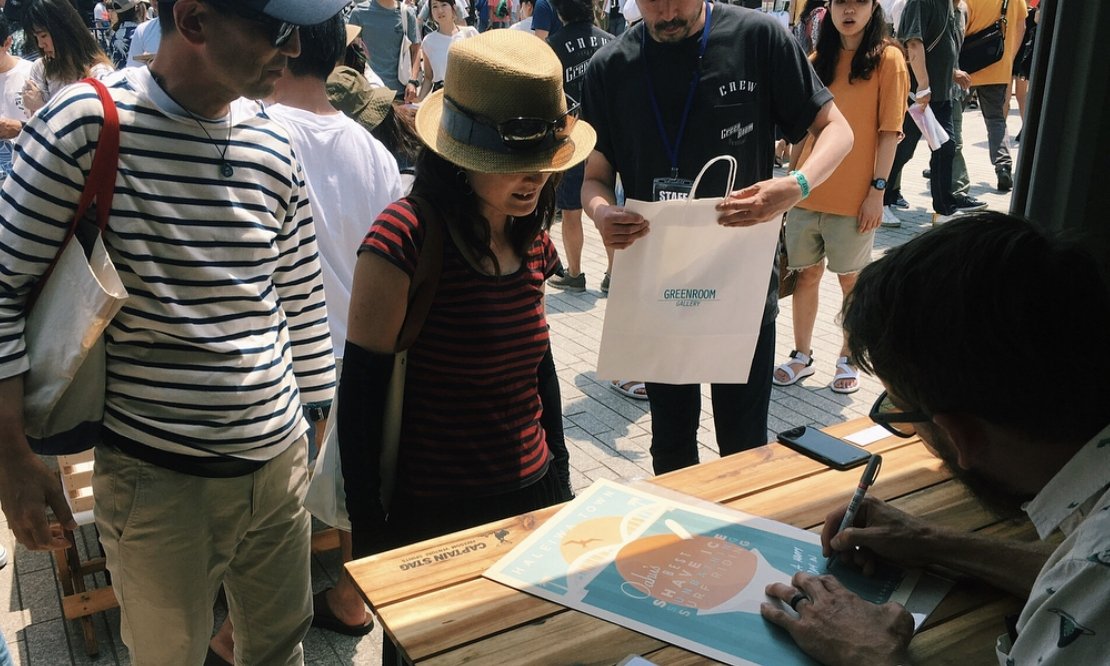 Greenroom Festival 2018 Recap
That's a wrap! Six Greenroom Festivals in the books and it's always a blast to be challenged and inspired each year. If you're unfamiliar with the Greenroom Gallery, they're an awesome company with several galleries in Hawaii and Japan and they put on a yearly festival in both locations to celebrate surf, surf art, and music. 
In May of this year I traveled to Greenroom Festival Japan in Yokohama. Got to spend a great weekend hanging out with fellow artists like Erik Abel, Kentaro Yoshida, and Kris Goto to name a few. And it's always fun to connect with repeat fans! Enjoyed Sublime with Rome and the Wailers and then high-tailed it back home to hang out with my wife and favorite twin groms. 
Then, last week, we got to enjoy Greenroom Festival here in Hawaii at the Waikiki Shell! Rocket coffee showed up in their 1973 VW High Top, so we were repping the #vanlife pretty hard. Babe Rainbow from Australia performed alongside a ton of really great musicians from all over. Plus this was the first festival where we got to sling some new towels alongside my many vintage-inspired travel prints and they were well-received!
There was a commute home after this one as well, and if you've ever lived in Ewa Beach, you know it was only slightly shorter than the flight back from Japan.
Thank you again to the organizers at Greenroom for the opportunity to share my art at this year's festivals. I'm looking forward to watching the love of surf and surf culture continue to grow, especially ahead of its premiere at the 2020 Summer Olympics in Tokyo. Mahalo and arigato until next year!