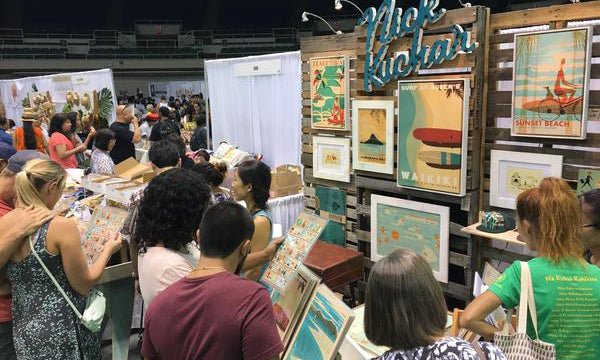 Made in Hawaii Festival Recap
It's always an honor to be included in the annual Made in Hawaii Festival and this year was no different! Loved seeing an entire event center filled with food, gifts, fashion, tools, and art made in Hawaii with all the aloha you can get your hands on. 
So, we brought the pallets to stand out and some tasty design to fit in. We introduced the art to plenty of mainland and neighboring island visitors from the comfort of the Blaisdell Center. There also seemed to be a lot of early birds who were already working on their Christmas lists! But who can blame them when you've got a ton of talented local entrepreneurs all in one spot to support. 
And last but not least, we discovered beef jerky chips for the first time. I repeat. Beef jerky chips. Delightfully crisp and highly addictive, but I digress. 
South shore prints sold like hot cakes (or beef jerky chips for that matter), but if you missed out, we've got more in the online store and on Etsy. Thanks again to the event organizers and all who stopped by for the support!